As an outsourcer of MC's Corporate Administration Department and Human Resources Department, MC Facilities has been carrying out the overall management operations of offices and MC head-office facilities for over 60 years. Today, along with MC's efforts to strengthen the MC Group's management foundation to propel MC's operations forward, providing similar services to MC Group companies and MC's domestic and foreign bases of operation, and supporting measures to improve efficiency of office operations are becoming increasingly important as roles of our business.
We have also continued to develop and provide a wide range of services such as business support to everyone working in the offices, and solutions to improve efficiency and reduce costs based on our experience cultivated through our MC head-office facility management operations, aiming to be a professional organization that can be entrusted to ensure safe, secure and comfortable offices. Recently, in addition to the needs for disaster prevention, crisis response and environment security, the needs of the time, such as the need for work places that would be the most amenable to new working styles, are changing and diversifying from day to day. At MC Facilities, we give our undivided attention and support as a company able to offer a seamless one-stop solution to all these various needs. Let us show you what we can do for you.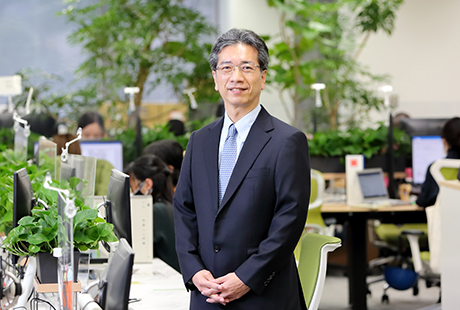 President and Chief Executive OfficerYasuhisa Minegishi
MCFa promotes fair and robust business activities based on The Three Corporate Principles, "Sankoryo", which is the cornerstone of MC's corporate philosophy.
Strive to enrich Society, both materially and spiritually, while contributing towards the preservation of the global environment.

Maintain principles of transparency and openness conducting business with integrity and fairness.

Expand business, based on an all encompassing global perspective.
The Three Corporate Principles were formulated in 1934, as the action guidelines of Mitsubishi Trading Company (Mitsubishi Shoji Kaisha), based on the teachings of Koyata Iwasaki, the fourth president of Mitsubishi in1920. The spirit and values of this "Sankoryo" remain alive today, and guide the activities of the Mitsubishi Group.