As a wholly-owned subsidiary of Mitsubishi Corporation (MC), MC Facilities has spent more than 60 years managing MC head office facility operations with a focus on business support services and the administration of offices, welfare facilities and other areas. Throughout that time, MC Facilities has always improved the functions and services it offers to meet a wide range of office-related managerial challenges such as environment-friendly building management, office administration, as well as disaster prevention and crisis management measures.
Working in integrated facility management has given our company a unique set of expertise and capabilities to implement solutions, which we are particularly leveraging to help realize MC's growth strategy "Achieving Growth Through Business Management Model" which was unveiled in Midterm Corporate Strategy 2021. We are also utilizing those strengths to refine facility management strategy proposals needed by companies. We believe that our mission is to underpin the growth of the MC Group by offering our services and expertise to MC and MC Group companies so that they can use those management resources to improve workplace productivity and revitalize their facilities efficiently.
The rapid progress of digitalization in recent years and the dramatic transformation of workstyles due to the coronavirus pandemic has greatly changed the environment surrounding office facilities.
This coming November, our company will be celebrating its 70th anniversary thanks to all the generous support we have received over the years from our affiliates. To live up to the trust we have earned over the past seven decades, MC Facilities will continue to do its best to help resolve the facility-related managerial challenges accompanying these major changes moving forward, and we look forward to working together with you to help boost productivity and reinvigorate your organization.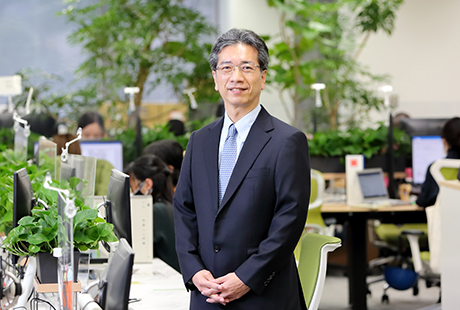 President and Chief Executive OfficerHiroaki Hara
June 2021
MCFa promotes fair and robust business activities based on The Three Corporate Principles, "Sankoryo", which is the cornerstone of MC's corporate philosophy.
Strive to enrich Society, both materially and spiritually, while contributing towards the preservation of the global environment.

Maintain principles of transparency and openness conducting business with integrity and fairness.

Expand business, based on an all encompassing global perspective.
(The modern day interpretation of the Three Corporate Principles, as agreed on at the Mitsubishi Kinyokai meeting of the companies that constitute the so-called Mitsubishi group in January 2001.)
The Three Corporate Principles were formulated in 1934, as the action guidelines of Mitsubishi Trading Company (Mitsubishi Shoji Kaisha), based on the teachings of Koyata Iwasaki, the fourth president of Mitsubishi in1920. The spirit and values of this "Sankoryo" remain alive today, and guide the activities of the Mitsubishi Group.